You will get so many options when you are looking for a perfect condenser microphone for your studio setup. There are many types of microphones based on the different transducer techniques used.
I am going to tell you everything you should know about Condenser Microphones in this post.
By the end of this post, I am sure if you have questions like How Condenser Microphones works? How it is different than other microphones and everything, you will have in your mind.
Let me break down some things so that you will understand them.
What is the Microphone?
The microphone is a device – a transducer – that converts sound into an electric signal.
In simple words
The microphone is a device that converts external sounds to electric signals.
The transducer in the Microphone converts your voice into Electric Signals. (also the device which converts one form of energy to another)
Based on the different techniques used there are 2 popular types of microphones.
Types of Condenser Microphones
There are various types of microphones available in the market. Let's check out some of them.
Condenser Microphone Brief
This is post is all about Condenser Microphone. That is why I am going to cover everything about Condenser Microphone in this post.
Condenser Microphones are very popular. It is very handy and perfect for studio recordings.
It is a perfect Microphone for quieter places like studios.
The main characteristics of the Condenser Mic are:
The condenser mic uses a Capacitor to convert sound waves to electric signals.
Condenser Mic uses power (voltage)
These are the two main characteristics that you can use to identify a Microphone.
Condenser Mics are also called Capacitor Microphones or Electrostatic Microphones.
As capacitors were also called the Condensers.
The condenser Microphone was invented in the year 1916 by E. C. Wente.  
Check out: Top 10 Best Condenser Microphones Under $100
How Does Condenser Microphone work?
There are 3 main components in Condenser Microphone.
Diaphragm Case – Which holds everything together in the mic.
Diaphragm – The moving part in the mic
Backplate – Static part in the mic
When the capsule is charged, it generates an electrical field and a sound wave hits the diaphragm. Then it moves closer and farther away from the backplate.
Which results in translating sound signals into electric signals.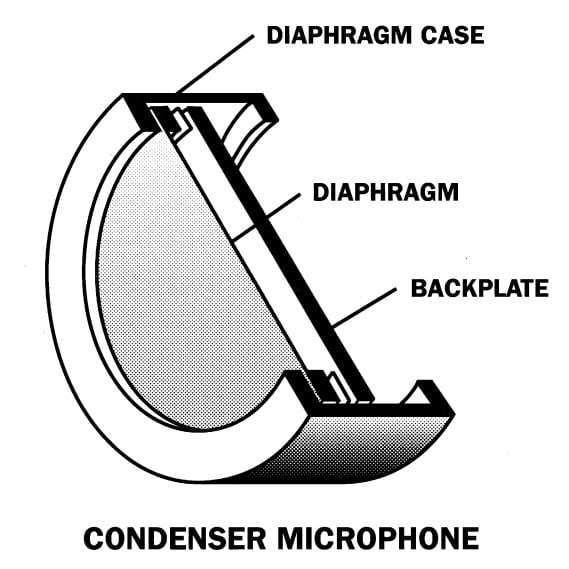 Look at this image.
Whenever some sound waves come through the mic, it hits the diaphragm. Then, the diaphragm starts moving closer and farther from the backplate. That movement of the diaphragm and backplates helps to generate the Electric signals.
Those are the electric signals which come as an output.
The working mechanism of the Condenser Microphone is simple, isn't it?
I assume you must have understood how exactly condenser microphone words from inside.
Advantages of Condenser Microphone
Condenser Microphones are more complex and fragile structured.
Condenser Microphones pick up wider frequency.
They have a more natural sound.
They have better sensitivity and high-level output.
Disadvantages of Condenser Microphone
It captures a bit of noise.
No suitable in a noisy environment.
Not good at noise cancellation
Cannot bear loud sounds
Major differences in Condenser Microphone and Dynamic Microphone
After reading all these things, you must be wondering how is Condenser Mic different?
Dynamic Microphones are very simple structures microphones. Dynamic Mics can handle loud sounds signals very well.
One of the most important key factors of Dynamic Mics is:
Dynamic Mics are good at background noise cancellation. They can be used without any worries about the silent environment.
With all the good features disadvantage of Dynamic Microphone is lower output. And Condenser Microphone is great at the work of output.
If you have already purchased a condenser microphone or you might be going to purchase one for you, you will need to use it properly. If you take care of a few things, you can easily get the most out of your microphone.
You can check out Easy Hacks To Improve Microphone Sound Quality that will be helpful for you.
You can also check out: What is a dynamic microphone? How does it work?
Best Condenser Microphone
I hope you must have got all covered the mechanism of Condenser Microphone. If you still have some questions related to Condenser Mic, then leave a comment in the comment box.
You can check out the Top 10 Best Condenser Microphones Under $100 and 6 Best Large-Diaphragm Condenser Microphones
I am going to do proper research and analysis of the Microphone to bring out the best suggestions for you. If you have some questions or requirements, you can let us know in the comment box.
If you are looking for the best microphones for VOCALS, then you can check it out here. 5 Best Condenser Microphones For VOCALS
or you can also check this out: 5 Best Condenser Microphones Under $300
Check out the bestseller condenser microphones on Amazon.
Bestseller No. 1
Bestseller No. 2
Sale
Bestseller No. 3
FAQ
What is Condenser Microphones best for?
Condenser Microphones are best for Studio Recordings. They carry a larger frequency range. Also, Condenser Microphone needs quiet places due to its low noise cancellation. The studio is the perfect place for Condenser Microphone.
What is inside the Condenser Microphone?
There are 3 main parts inside the Condenser Microphone, which are Diaphragm Case, Diaphragm, and Backplate.
Is Condenser Microphone good for vocals?
Yes, due to its high-frequency range, it is suitable for studio recording. You can use it for vocals, recording sounds, or singing also.
Do I need Phantom Power for Condenser Mic?
Yes, you will need a Phantom Power. Condenser Mic uses the power supply. The transducer uses the power to convert sound waves to electric signals.
Which is better? Condenser Mic or Dynamic Mic?
Both have there our features. If you are looking for the Mic for your own recordings, singing or vocals then you can go with Condenser Mic. If you are not in the silent zone most of the time, then you can pick a choice of Dynamic Mic.
Is Condenser Microphone good for live performance?
Most of the performers use Dynamic Microphones for live performance. But you can choose the dynamic mic with the high-end specs if you want for live performance. High-end Condenser Microphones will give you a delicate and breathy voice.
You can check out the best 10 Best Microphones For Singing Or Recording Vocals Here!
Conclusion
With all those things covered up. I would like to wrap up some things in short over here. You might have understood all the pros and cons of the Condenser Microphone.
Condenser Microphones are best for the studio setup which is a silent environment. If you are looking for a mic for your own voice recordings, vocals, and singing in your room or studio. Then your choice should be Condenser Microphone.
You will love the sound quality of the Condenser Microphone which is clear.
But, if you are looking for a mic to use in public places or in a noisy areas, you should pick Dynamic Mic.
If you have anything to say or ask about this post, you can put that in the comment section below.
You might also like some of our other best articles as well:
In-Depth Blue Spark SL Condenser Microphone Review
Top 5 Best Condenser Microphones Under $300 in 2023
Top 10 Best Condenser Microphones Under $100 In 2023
5 Best Condenser Microphones For Vocals
6 Best Large-Diaphragm Condenser Microphones