There are many ways to reduce keyboard noise, but the best way to find out is to try different techniques and see which one works best for you. Some of the most common ways to stop a microphone from picking up unwanted keyboard noise are by using a windscreen, using headphones, and turning the mic off completely.
In this article, I have listed 7 different solutions that you can try on how to stop the microphone from picking up background keyboard noise. Give them a try, and for sure, you will see the improvement.
How To Stop Microphone From Pick Up Background Keyboard Noise?
If you are looking for the perfect solution for how to make the mic not pick up the keyboard, try a few of the below solutions, and it will work for you.
Solution 1: Re-position your Microphone
The very first and easiest thing you can do to resolve queries about how to reduce unwanted noise when recording is to reposition your microphone. Unidirectional and cardboard-based microphones are usually best known for providing the best experience.
Your keyboard may come in between your mic and yourself, so make sure that you have did a good placement of your mic. Try to keep the mic away from the keyboard.
If you don't have one, don't worry as the majority of the microphones today do come up with a physical switch that makes it easier for the users to change the directionality manually.
You can easily reduce the sound your microphone is picking up from the keyboard just by placing your microphone in the right position.
Solution 2: Consider a silent mechanical keyboard
Mechanical keyboards often do come up with switches underneath each key and they do not pick up sound from the keys. This kind of keyboard often uses a plastic membrane that gives unique tactical feedback to the user while typing.
You can keep the same for reducing the extra background noises while enjoying the extreme experience of typing with these quieter mechanical keyboards.
Solution 3: Adjust the setting of your mechanical keyboard
If you are not in the favor of spending any money just to get a new mechanical keyboard, you can opt for a DIY option.
You can install O-rings or silicone rings on the keycap stems to reduce the sound coming up from the keyboard, making it a quieter keyboard. The O-rings are specially designed to prevent the key step from hitting up the keyboard plate when you press the, and hence do not produce any clicking keyboard sound. The best thing about the installation of O-rings is that you don't need any professional support here.
Solution 4: Adjust Software Settings
If your microphone is currently facing some sensitivity or volume dial issues, you can resolve the same just by making adjustments in your software.
Editing settings is not a big deal and can be easily handled with the help of Windows and third-party VOIP programs such as Discord. We would prefer you to go with the Windows settings first. Some mics like Cherry mx or blue yeti have inbuilt features that let you control these settings much more easily.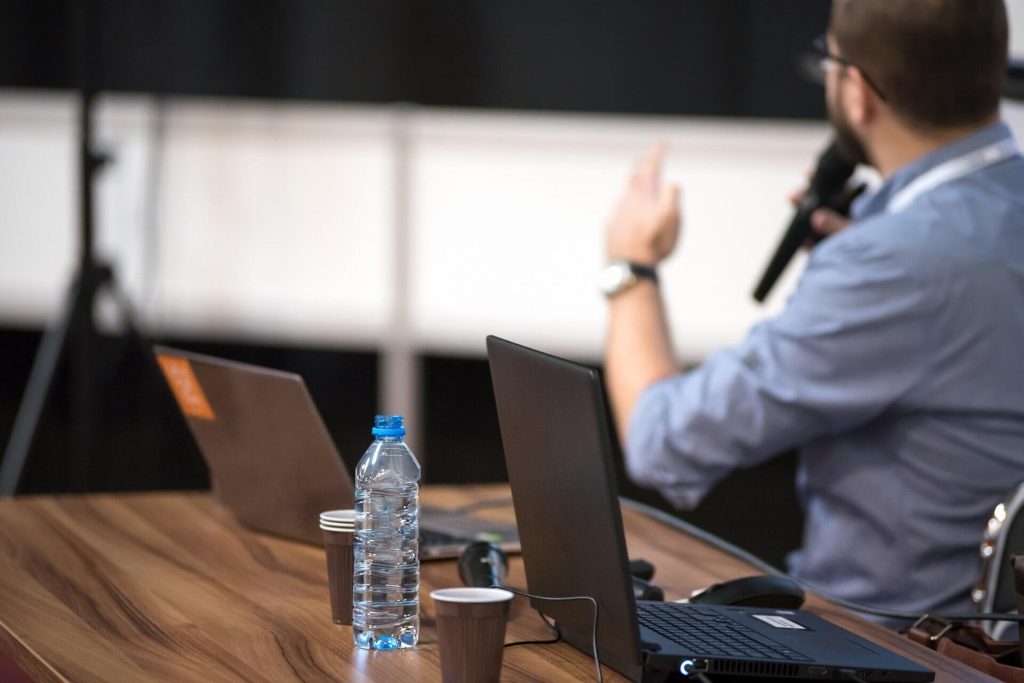 Solution 5: Control microphone level in windows
Tap on the Start button on your Windows and then make a search for the change system sounds quality option.
Hit the Enter button on the keyboard to process the process further.
Now go to the Sound window and then tap on the Recording tab.
Now make a right-click on the microphone option and then tap on Properties.
Tap on the Levels tab for proceeding further with the process and then shift the slider towards the left for reducing the volume of your microphone.
Once done now tap on the Listen to this device option followed by pressing the Listen tap for testing the sound of your microphone in real-time.
Solution 6: Control microphone sensitivity in Discord
Launch Discord and then tap on the gear icon to your name.
Go to the App Settings and then tap on the Voice & Video option.
Now, go to the Input Sensitivity option and then use the slider for lowering the sensitivity of your microphone.
Once done now tap on the Mic Test option followed by tapping on the Lets Check button for checking the sensitivity of the microphone in Discord.
Solution 7: Use Pop Filter
Using a pop filter for your microphone will make your mic sound wonderful without any noise at all. It reduces the noise to an extreme level.
You might even get your own voice a bit lowered, but that's okay as you are getting enough noise. Choose the best pop filter for your mic online. You can check some of them here.
How To Reduce Keyboard Noise When Recording?
You can reduce keyboard noise by
Dampening the rubber or plastic bottoms of your stand on a damp cloth, thereby creating a layer of water between the two.
Putting non-slip mats under any stands.
Not poking your fingers at all while playing.
Using key and frame plugs to make everything tighter together in general, prevents keys from jumping around or becoming loose during transport and usage.
Use noise gate
Turning sharps about an inch closer to you than flat keys (the reason for this is that when you press down, the sharp is what pivots lengthwise instead of the tapered side of the flat key)
Tips For The Microphone To Sound Better
It is not easy to make a noiseless recording always. Certain things can disturb your recordings at any time. We are here with some tips that can help you in getting better sound quality during recording and these are:
Take the noisy things out of the room
Try to keep the microphone of your desk Off unless is not so necessary
Keep the back of your microphone towards the noisy source
Keep the microphone a few inches away from your mouth
Never try to move around while recording
Set the gain always to the appropriate level
For more tips, check out this: Easy Hacks To Improve Microphone Sound Quality
FAQs
How can I prevent my Laptop/PC mic from picking up on my keyboard noise?
Select Recording equipment. Right-click on the microphone and select Properties. Navigate to the levels tab. Try adjusting the microphone level; if that doesn't work, try lowering the Microphone boost levels.
How can I prevent my microphone from picking up background noise?
If you're using a noise-canceling microphone, make sure it's close to your mouth, about 2 centimeters or less than 1 inch away. This filters out unwanted background noise, so positioning it correctly is critical to avoid audio issues.
How do I eliminate keyboard noise?
1. Take the noisy things out of the room
2. Try to keep the microphone of your desk Off unless is not so necessary
3. Keep the back of your microphone towards the noisy source
4. Keep the microphone a few inches away from your mouth
5. Never try to move around while recording
6. Set the gain always to the appropriate level
Conclusion
There are a few things you can do to help stop your microphone from picking up keyboard noise. Use a noise-canceling headset or microphone, try to keep your keyboard and microphone in the same area, and use a windscreen or pop filter if you are using a microphone. Following these tips should help you reduce or eliminate the amount of keyboard noise that is picked up by your microphone.
Do you have any other way which works for you? Please do share it with us, so I can share it with other readers as well.
MXL V67G Review
Top 5 Best Microphones For Voiceovers in 2023
Blue Compass vs Rode PSA1: Which Is The Best Boom Arm?
Fifine K669B USB Microphone Review: Features, Pros, & Cons