Getting a new microphone for yourself? Or already have a mic but getting some noise or air in your recorded sounds?
Urgh! It is time to add some simple add ons to your microphone to make it more perfect to record the sound.
I am talking about the pop filters.
I am damn sure that you must have heard about pop filters for sure. Even if you don't know the name, you must have seen it already in many places.
In this post, I am going to share what does a pop filter do? You will understand why you need a pop filter for your microphone and how it will benefit you.
What is Pop Filter?
It is that noise protection filter that singers or anyone who is recording something use to reduce the noise and the distractions in their noise.
To give you a clear idea, here is the image of the pop filter that I use for my microphone.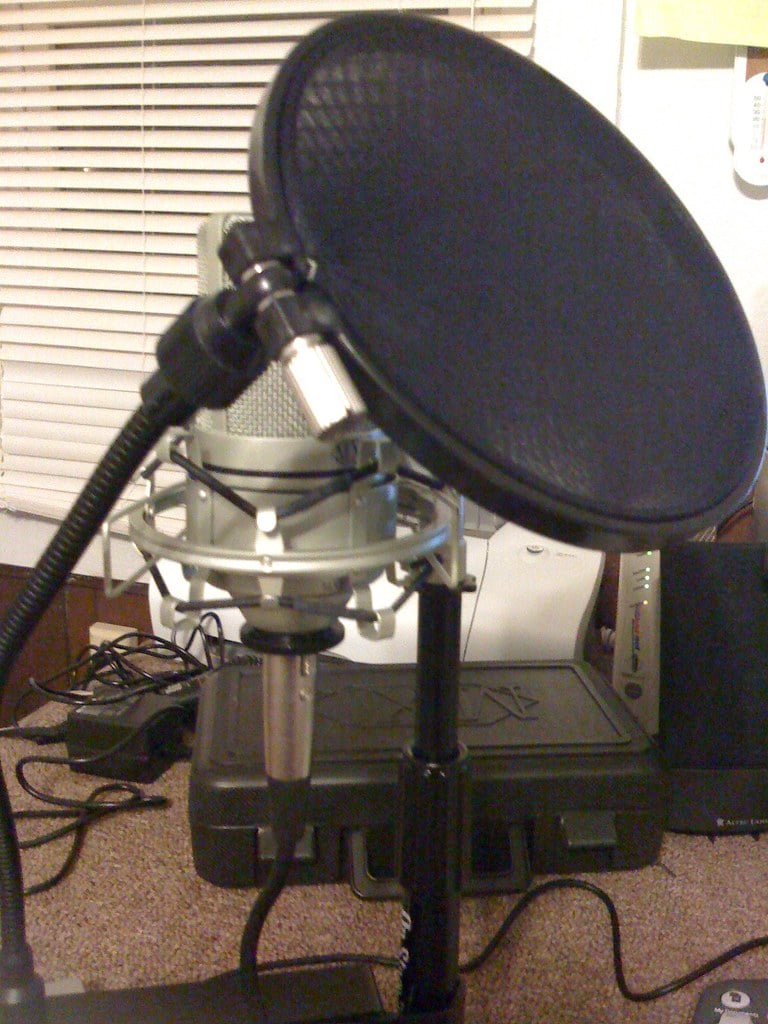 You already know it.
To be honest, there is nothing rocket science in this thing. It clearly shows us why we use it. Yet I am going to tell you how exactly this works so that you can get most out of it.
Pop Filter is also known as Pop Shield or Pop Screen as well.
What Does A Pop Filter Do?
Pop Filter helps you reduce the noise and the distractions that you get while recording audio due to fast-moving air or some small movements on your table or on the stand.
It is very useful when you are singing or recording some vocals.
Pop Filter does help you make you sound natural and crystal clear.
You can easily identify the difference when you use the pop filter to your microphone and when you don't.
There are many professionals who deny working without pop filters because they want their sound to make the real output.
Pop Filters are mainly made of one or two layers of semi-transparent materials such as foam, woven nylon stretched over a circular frame, or a clamp and a flexible mounting bracket.
Pop Filters are used mostly in the indoors, mostly in studio environments. It is flexible as well and there is nothing about carrying it anywhere as well.
Let me show you how the sound differs when you use a microphone with pop filter and without a pop filter.
Advantages of Pop Filter
Easy to use
Gives natural output in sound
Nothing technical involved
Works with any microphone
Affordable
Great for indoors or studio
Helps to minimize the plosives
Best Pop Filter?
You know how it helps and why you should it get it. Now, which one should you get?
There are many things involved in thinks to consider before buying pop filters. (I will write another post on that which will tell you some top best pop filters and will give you an idea of the things which you should consider while buying a pop filter.)
Here are some of my own recommendations that I have taken out which are the best pop filters.
You can get any of given below pop filter for your microphone.
Nady MPF-6
ASFSS6GB Dual-Screen
Avantone PS-1 PRO-SHIELD
WindTech PopGuard 2000
Blue Microphones The Pop
Pauly Ton Pauly Superscreen
Stedman Corporation Proscreen XL
Final Words
Understanding the pop filter is not that complicated. You will understand it with much ease.
You can get any of the given pop filters which I have listed above.
To make your microphone more best for the recording you can read my other article on Easy Hacks To Improve Microphone Sound Quality
Do you have anything to say related to pop filter? Do let me know in the comments.