MXL 4000 is a microphone made for certain people and some online sales divisions. It was made especially for Guitar Center and other retailers only. That's the reason you might not be seeing this microphone on most of the common buying places.
It is the special microphone that is made for those who want to record instrumentals, hip hop, etc. in their own studio rooms with an affordable pricing range.
If you are looking for a review of the MXL 4000 microphone before making a purchase, then you are on the right page.
In this post, I have shared an in-depth MXL 4000 Review with microphone features, performance, pros, cons, and everything you should know about MXL 4000 microphone.
MXL 4000 Microphone is a large-diaphragm multi-pattern condenser microphone. It was made especially for certain retailers. It is part of MXL's 900 Mic series.
Sale
The microphone was popular for hip-hop recordings, acoustics, and rapping as well. It is popular and in-demand because of the versatility of the microphone due to multiple polar patterns and some extra features that let you control sound.
With various settings and proper setup of the microphone, you can use this microphone for instrumentals, voiceovers, podcasting, and much more.
You are going to need a standard XLR microphone cable for the connectivity of the microphone. You are also going to require the phantom power supply of 48v as well.
MXL 4000 Microphone Features
DESIGN: The microphone has a vintage and unique microphone look which catches eyeballs easily. It has got a decent grill style in the microphone if you like it. MXL 4000 mic has all-metal body construction with a nickel finish for the top mesh grill.
The old-school type design of the microphone is suitable for a studio setup.
SWITCHES: You will get three switches one on the front side of the microphone and two on the backside of the microphone. You can control pad, bass roll-off, and polar pattern using those switches.
Extra switches let you decide how you want the microphone to sound in various conditions and adjustments.
THREE POLAR PATTERNS: MXL 4000 has three polar patterns: Cardioid polar pattern, Omnidirectional Polar Pattern, and Figure-8 polar patterns.
Cardioid Polar Pattern lets you record the sound only from the front side of the microphone. Best for avoiding the loss from other directions while recording.
Omnidirectional Polar Pattern lets you record sound from all the directions of the microphone. Catches a bit of extra noise in the sound but useful in group recordings.
Figure-8 Polar Pattern lets you record the sound only from the front and backside of the microphone. Mostly used for the duos (two people singing) or podcasting, interviews, etc.
-10dB PAD SWITCH: You get a switchable -10dB pad switch on the backside of the microphone which is useful when you have some super loud sources to record. It is useful when you are recording instrumentals.
BASS ROLL-OFF SWITCH: You get a switchable bass roll-off switch on the backside to control when you need to take some of the extreme low-end basses or need more clarity (helps block low-end noise).
EASY TO SETUP: The microphone is easy to set up and adjust. Even if you are not a technical person it is much easier for you to set up and install the microphone. You don't need to do any additional software setup or driver settings at all.
Also Check: Top 5 Best Vocal Microphones Under $500 in 2023
MXL 4000 Microphone Technical Specifications
Here are all the necessary technical specifications that you might need for the microphone MXL 4000.
| | |
| --- | --- |
| Type | Pressure gradient multi-pattern condenser mic |
| Diaphragm | 6-micron gold-sputtered/25mm large-diaphragm |
| Frequency Response | 20Hz – 20KHz |
| Polar Pattern | Cardioid/Figure-8/Omni-directional |
| Sensitivity | 15 mV/Pa |
| Impedance | 200 ohms |
| High Pass Filter | 6dB/octave, 150Hz |
| Equivalent Noise | 20dB |
| Sound to Noise Ratio | 74dB |
| Max SPL | 130dB |
| Power Requirements | Phantom Power 48V |
| Weight | 725 grams |
| Color | Blue/Nickel |
| Price | Check on Amazon |
MXL 4000 Microphone Frequency Curve and Polar Pattern Chart
MXL 4000 Microphone Performance
MXL 4000 mid does have a 25mm large-diaphragm capsule which makes the warmth and richness in the sound with nice clarity.
Multiple (three) polar patterns in the microphone make it versatile and work on various conditions in various ways after some adjustments.
The sound is a bit boosted in the microphones that's why it is best for hip hop, rapping and instrumentals.
I won't recommend this microphone for singing vocals. If your core purpose is to record vocals then I won't suggest you pick this microphone. If you can use a good preamp to boost the low ends then it will give some natural warmth and thickness which is ideal for vocals.
When it comes to recording on piano, guitar, and bass guitar, you will love the sound output. It produces choral performance on instrumentals very smoothly.
The mic sound is perfect and does have a bit of extra warmth and the boost in the sound which is perfect for stuff like hip hop, pop, rapping, interviews, podcasting, etc.
MXL 4000 does have a frequency response of 20Hz to 20KHz which is perfect for any condenser microphone. Having an extra polar pattern gives it more edge. It has the max SPL (sound pressure level) of 130dB which is perfect to handle any instrumental.
MXL 4000 Microphone Pros and Cons
Every product does have some pros and some cons for sure. I have found some in this mic as well.
What you will get in the box with MXL 4000 microphone?
It is important to know what you are going to get with the microphone. You can consider anything else if you need to get with the microphone.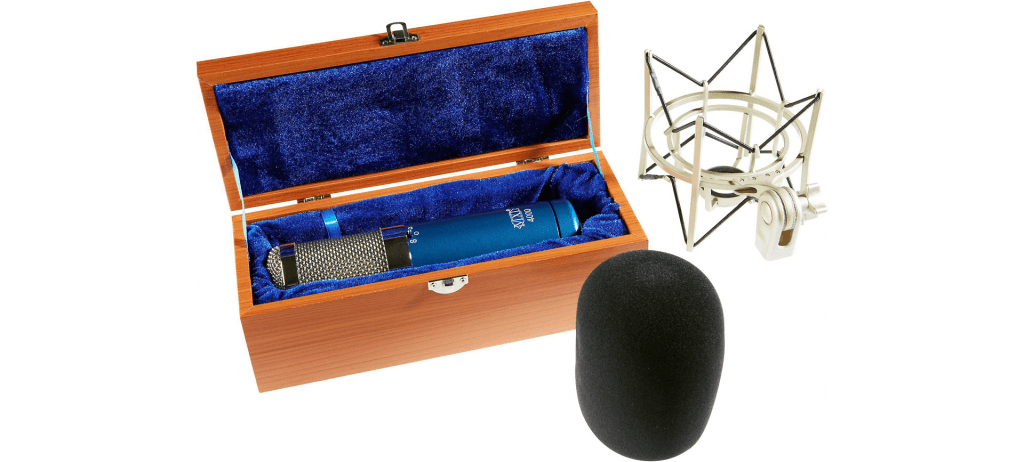 You will get the following things in the box with the microphone:
The pop filter is not available with the box. I will suggest you get one by yourself for the microphone to avoid noise much better. You can check out some pop filters here.
MXL 4000 Microphone: Frequently Asked Questions (FAQ)
Does MXL 4000 need phantom power?
Yes, you will need the phantom power supply 48v to use the MXL 4000 microphone.
What is the frequency response of MXL 4000 microphone?
The frequency response of MXL 4000 microphone is 20Hz to 20KHz.
Is shock mount available in the box with MXL 4000 microphone?
Yes, you will get the "High Isolation" shock mount MXL-60 shock mount with the MXL 4000 microphone.
Conclusion: Should you buy MXL 4000 Microphone?
As I told you before, this microphone was made for specific retailers which makes it special and perfect as well. That's one of the reasons why this microphone gives you so many features at very affordable pricing.
MXL 4000 Microphone is very versatile in terms of sound, features, and performance. It does have a very rich and clear sound output. The microphone is not the best microphone for singing vocals and acoustics.
The microphone is the perfect and the best pick for rap, hip hop, instrumentals, voiceovers, podcasting. Etc.
If you want some extra features in the affordable pricing for the microphone which is ideal for studio setup then you should definitely go with the MXL 4000 microphone.
Do you want to read other reviews? You can check out other in-depth reviews here:
MXL V63M Review: Microphone Features, Spec, Pros & Cons
MXL V67G Review: Mic Features, Specs, Pros, and Cons
In-Depth MXL 990 Microphone Review (2023)
Rode NTK Microphone Review
MXL R80 Ribbon Microphone Review
Do you want to say anything? Do let me know in the comments section and I will revert you back in the next 24 hours for sure.
You can also check some out other best articles:
Top 5 Best Microphones For Voiceovers in 2023
Top 7 Best USB Microphones Under $100
Heil PL2T vs Rode PSA1: Which is the best boom arm?
Blue Compass vs Rode PSA1: Which Is The Best Boom Arm?
Top 5 Best Microphones For Facebook Live in 2023