A budget microphone for vocals is something that many people are looking for on the internet. That is why I have already posted an article on 5 Best Vocal Microphones Under $500 and 5 Best Microphones For Recording Vocals On Computer in 2023. Few people want me to list down the best mics under $200 which they can use for vocals.
For sure, people will get confused because there are way too many options available when it comes to buying a microphone.
Most of the people keep the specific budget in their minds before shopping. In my opinion, that is one of the best things people must do while shopping.
In the case of the microphone, you MUST set a certain budget before purchasing as there are way too many options available ranging from 50$ to even 5000$ as well. There is no need to compromise on the sound quality of the microphone or anything which is important for any singer or the creator.
Keeping all the necessary things in mind, I have made this list of the top 7 best mics for vocals under $200 in 2023 where you will find as many options you want. I have already done enough research and found a few of the best mics in every category and type.
Whatever your needs are, you will find one best microphone in this list for you.
If you don't know what things you should look for in microphone before purchasing then I will suggest you to read the short buyers guide which I have given after the list of all best vocal microphones.
Best Microphone For Vocals Under $200 in 2023
Now let's talk about each of them in detail.
AKG is one of the very popular microphones. They manufacture audio gear only. Some of the microphones produced by AKG are very iconic and very popular as well. They try to give versatile microphones to users.
AKG P420 is a dual capsule condenser microphone. This is one of the best budget versatile microphone that I have used. This microphone is most popular for versatility and the durability of this microphone.
By the design of AKG P420 itself, you must have got an idea about the material and the durability of this microphone. Design of AKG P420 is not that attractive, yet the built quality of this microphone is more reliable than any other microphones out there.
AKG P420 is a multi-polar pattern which will help you capture all the sounds in a way you want. Multipolar pattern is one of the things that I liked about this microphone. You can always switch the polar patterns based on your use. P420 has Cardioid, omnidirectional and figure-8 polar patterns. If you want to know more about the polar pattern, you can check it here.
Talking about the specifications, P420 has the frequency response of 20Hz to 20KHz, which mean it can capture all the sounds that any human can here. The lows and highs of this microphone are pretty perfect. All the sound output you get out of this microphone is very natural.
Maximum Sound Pressure Level (SPL) of AKG P420 is 155dB, which is the highest in our list. Thus, it means P420 can easily handle the high sounds from drums or instrumentals.
The sound quality of this microphone is very natural and smooth. One more thing, you don't have to worry about connectivity unlike other condenser microphone. It is very easy to use and connect.
As of now, you must have got an idea of why this microphone tops our list. It does have all the things you need. The frequency response, sound pressure level, polar patterns or whatever you need in the premium microphone, AKG P420 does have it.
Rode is one of the very classical brand in the market which is trying to capture the market with producing some new age microphone. Although, they have produced some of the best USB and condenser microphone which are very popular.
Rode NT is a USB Condenser Microphone which is popular for the vocals in USB type microphones. If you have to ask what kind of microphone Rode NT, then it is also the versatile microphone which you can use. But this microphone is specifically made for the vocals and some of the specifications are tied up with studio like enviornment.
If you are not convinced with AKG P420 then Rode NT is something that might take your attention. It is the alternative for that mic.
Rode NT is USB condenser microphone made for the studio setup and singers. It has a cardioid polar pattern which will capture sound only from the front direction of the microphone. It is suitable for singing or vocals.
Design of NT is very attractive. It does catches your attention with it's classical and latest look. Even the built quality of Rode NT is very nice and durable.
Rode NT has a frequency response of 20Hz to 20Khz, which very ideal and perfect. The maximum sound pressure level of Rode NT is 110 dB, which even decent. Yet, I will not recommend it to you for drums or acoustics. You can play the electric guitar. For vocals, this is perfect.
Being a USB microphone, the connectivity of Rode NT is easy to set up and use. You won't need to worry about the connectivity as you can directly plug the USB cable.
The sound quality of this mic is best. It is made for the studiolike environment so it will make your vocals and singing pretty easy to record.
MXL is a young brand in the industry with modern microphone technology. They focus on making variations for almost everyone. They make a microphone for everyone in affordable pricing. The quality of their microphones is as well premium.
MXL 770 is the budget-friendly microphone that you were looking for in this list. It is a condenser microphone with premium sound quality in minimum budget.
The design of MXL 770 is very traditional and rigid. It does look very classical. The built quality of this microphone is very impressive at the given pricing point.
This microphone can do more than what you can expect. It does have the frequency response of 30Hz to 20Khz, which I think is decent. But, it does have minimal low end. The maximum sound pressure level of MXL 770 is 137dB which is very nice for piano or bass.
The sound quality of this microphone is very smooth. I only found bit distortion at the low end, but while recording a podcast or vocals it was perfect.
This microphone is ideal for podcasting, vocals practising, etc. If you are low on the budget and want something good with the sound quality and performance then MXL 770 is good choice for you.
MXL 770 has the cardioid polar pattern in the microphone which makes the noise cancellation very smooth and clear sound capturing as well.
Most of the people suggest MXL 770 for the beginner singers who wants to have a microphone in a budget.
MXL 770 is the entry-level microphone. If you are looking for the budget microphone for podcasts or recording your vocals only, then only you should check it out. Else you can always go with the upper version MXL 990 which is much better compared to this one and also falls under the $200 category as well.
Blue is the brand that everyone knows. Blue is the company that is always trying to make the bestseller microphone which will hit the markets in every category. The quality of their products is very impressive. They do have the high reputed brand in the audio industry.
If you watch the content online and watch creators, then the chances that you don't know about Blue Yeti microphone is very low. It is one of the most well-known microphones that people know.
If you ask people about the microphone recommendation, blue yeti will be one of the most recommended microphones in the market.
Blue Yeti deserved all the popularity and the positive response with the quality they are providing. The design of Yeti is very classical yet very attractive. It looks for premium design and material.
Blue Yeti is a USB Microphones which makes it easy to connect and use. Blue Yeti is also one of the best portable microphones that content creators use.
Yeti has a frequency response of 20Hz to 20KHz, which is ideal and perfect for vocals or recording songs. It does have a bit depth of 16-bit and sample rate of 48Hz, which is more than what you need in any USB Microphone.
Blue Yeti has four different polar pickup patterns. It is in itself a very outstanding feature. The four different pickup polar pattern that you get in Blue yeti are Cardioid, Omnidirectional, BiDirectional and Stereo Mode. You can switch between them, based on your own choice whenever you need.
It is one of my favourite USB microphones. It has become so popular because of some popular celebrities using this mic.
Yeti will work great for podcasting, voice-overs, interviews as well. You can also record the instrumentals as it is capable of capturing those sounds as well.
The sound quality of Yeti is very natural and does the best job at noise cancellation as well. You will not feel any distortions or sounds in your voice like other USB microphones.
This is one the best USB microphone for vocals if you want to go with it. It will make most of your work easy and comfortable.
Sennheiser is that classical guy in the audio industry who goes by their own rules and stuff. Sennheiser does produce some of the best mics for the singers and artists. The mics made by them do have those premium vibes.
Sennheiser E935 is a dynamic microphone. This mic has got the wild card entry in our list due to all the positive reviews from the users and also because of the brand value. The core reason to put this mic in our list is, it qualifies all the criteria we need for a vocal microphone.
The design of this microphone is very classical as most of the dynamic microphone. The grip of this microphone to hold is perfect, that is what we need in any dynamic microphone to hold. The material of this microphone is very durable and looks very reliable.
The frequency response of Sennheiser E935 is 20Hz to 20KHz which is as I said, "PERFECT"! This is the dynamic microphone which is made for the live on stage performances.
The sound quality of this microphone felt really smooth. You won't feel any different in condenser microphone and this one even in the studio. The only thing is the polar pattern.
E935 has the half cardioid polar pattern which is very different than what you get in the condenser microphones. Due to half cardioid polar pattern and the dynamic mic, you can't expect the best noise cancellation from this mic. It does an excellent job of voice capturing, but you might hear some noise in your recordings.
This microphone is best for the concert stage performances where you are definitely going to have some noise. You can also talk from close to mic as ASMR, which will help you reduce the noise. Thanks to perfect lows of this mic.
Although, you can also record the instrumentals or the sounds with high pressure such as drums or acoustics. That gives you an edge over others.
E935 is one of the best live vocal mic under $200.
If you are a person who does performances on stage or in the concert then Sennheiser can be your best choice being the dynamic microphone with half cardioid polar pattern.
Shure is the brand who does have varieties of types of microphone. Name the kind of microphone, and shure has hundreds of microphones in that type. They are currently leading in the headset microphones.
Shure SM58S is the microphone that has got many recommendations from the users. Not from experts but from users. That is why this is the people's choice microphone on our list.
The reason people like this microphone might be because they have seen most people use this microphone while singing on the stage. Shure SM58S is a dynamic vocal microphone. It is the dynamic microphone which adds the core elements of condenser mic to a dynamic microphone.
The design of this microphone is like every other typical dynamic microphone. Most of the dynamic microphone doesn't have those premium looks. Yet, I have seen some of the microphones that catch attention like none other.
SM58S has the frequency response of 50Hz to 15Hz, which is not that perfect for the studio like environment in lows. I expected this to have at least of 30Hz of minimum frequency response. The sound pressure level of this microphone is 94 dB which is suitable for the typical vocals and singing. You can't play the drums and acoustics. You may play an electric guitar.
That is the reason why I am personally not satisfied with the specifications. But the sound quality of this microphone is elite. It is much more better than what you expect from the dynamic microphone.
This microphone has got the cardioid polar pattern which is why the noise cancellation of this microphone is much better than the Sennheiser E935 mic.
If you are looking for a dynamic vocal microphone with the cardioid polar pattern then Shure SM58S is where your search stops. It does have the good sound quality and nice sound capturing as well.
Audio Technica AT2020
Audio Technica is one of my favourite brand that comes with the perfect premium microphones in the market. The best things I have seen about the Audio Technica Microphone is that they don't keep any downside in the mics. They make a perfect microphone for the stuff they want.
AT 2020 has got the chance to be in this list because of the brand value and the perfection only. Else, I wasn't about to add this microphone in this list. There are few mics that I have found with better specifications, but they are from some random brands and new in the market. That doesn't count with the reliability factor.
Also, I have tested many Audio Technica mics and have seen the customer support of them as well. That is the only reason why AT 2020 has been nominated in the list of best vocal mics under $200
AT2020 is a condenser microphone which has perfect alignments of specifications for vocals or singing. AT2020 has the cardioid polar pattern, which helps in noise cancellation and captures the sound only from the front direction.
It does capture all the clear sound and returns your the natural sound output.
The design of this microphone does look very fresh and eye-catchy. The material used also makes it more reliable and durable.
The frequency response of Audio Technica AT2020 is 20Hz to 20KHz, and the maximum sound pressure level is 144 dB. I hope now; you must have understood why I said, "AT makes the mics without keeping downsides". Frequency response and SPL of this mic are more than what you need for the vocals.
You can use this microphone for almost anything you want. From vocals to instrumentals, it will work the same.
AT2020 is the microphone that has nothing enhanced nor downed for a vocal microphone. For vocals or recording songs, AT2020 does have all the necessary specifications as you want.
This is one of the perfect microphone covering up all the side for you. Audio Technica does this very well in every microphone.
Husshhh! Now I am done with the list. I hope you have got the idea of the microphone that you are going to pick. Here I am going to share the specific points you should look for before purchasing a microphone. Align with yours and choose the best one for you.
Buyers Guide For Vocal Microphone
Here is the list of the things you MUST look in your mic.
Design
Built Quality
Pricing
Durability
Brand
Frequency Response
Max SPL (Sound Pressure Level)
Polar Patterns
Connectivity
Type of the microphone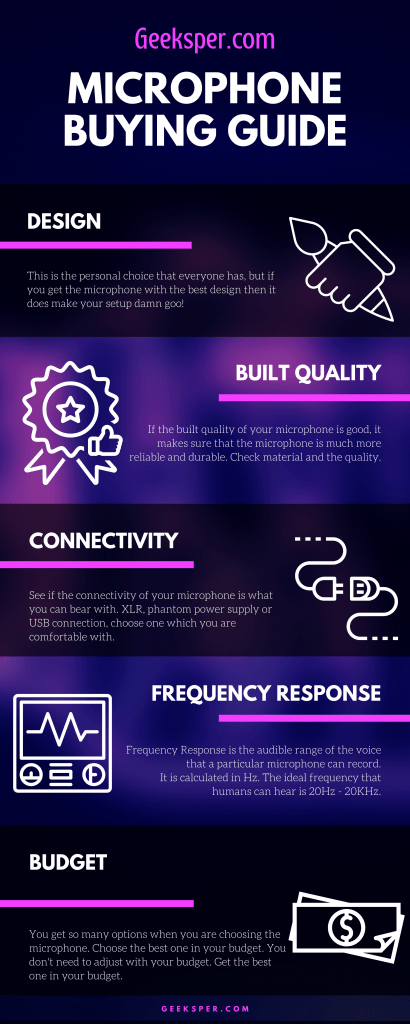 If you like, share this infographic with your friends who are searching or might search for the microphone. This infographic will help them in the purchase.
FAQ
Which microphone is the best for vocals?
There are many microphones such as AKG P420 or Blue Yeti which are best for vocals. You can check more microphone here.
What is the best cheap microphone for recording vocals?
What is the best Shure microphone for vocals?
Shure SM58S is one the best microphone which is very popular. They do have some more best mics as well.
Conclusion
Hope you have found your best pick in list I have given. All the mics that I have listed are the top microphones for you. You just have to pick one based on your conditions.
If you want my own recommendation, then I will pick the top one which is AKG P420. Other than that, I will pick the Blue Yeti as my second choice.
Read this: 5 Best Dictation Microphones In 2023
Need to ask anything? Do let me know in the comments section below.