It has already become super easy to complete our task with the tools we are getting around us. Whatever you have to do, there are some tools available for you to make it happen faster or efficiently.
It is continuously becoming more accessible and faster. It will continue to be more ahead, as well.
We live in the age of fast-moving cities, where the time value has rapidly increased.
Many people use microphones to write notes, articles and everything. In fact, this article which I am writing now is being written by the dictation itself. I will talk whatever I have to and will check for the error in this.
It saves a lot my time. I mean it! Almost half the time.
In this article, I am going to share some of the best microphones for dictation or speech recognition.
To be honest, there isn't anything special about this. If you have any of the studio mics, you can use it for dictation as well. It will work absolutely beautiful without any issues at all.
There are lapel microphones people use in call centres or in offices for voice recognization. The reason is its functionality.
You just have to pluck it in your ear and nothing else. It doesn't have anything hectic like position or handling stuff.
That is the only reason why there are separate microphones for calling or dictation in the market.
NOTE: If you already have some microphone (especially studio microphone) then I will not suggest you get yourself another microphone for dictation only.
Also, if you are planning to do it for your work. Then you can check out the list of best condenser microphones and get on for you from it. It will be useful for you as you will be able to use it for many uses.
If you are a data entry guy or the one who always needs to do speech organization as a core job, then you are going to get the best list of microphones.
5 Best Dictation Microphones in 2021
Here is the list of all the best dictation microphone you can pick from based on various factors.
You can check the detailed review of this all below if you want.
Nuance PowerMic III
Nuance Dragon is a well-known company that makes profession friendly microphones. They try to bring the best accessibilities with the specific features that are useful for them. PowerMic III is one of that.
Nuance PowerMic III is the mic designs for enhanced productivity and perfect speech recognition. It is made for those who do a lot of dictation work.
This microphone is mainly made for the doctors or those who are in the clinic. They need to be around every time, and this microphone helps them a lot.
PowerMic III has high-quality sensors that make it easy to capture your voice. You can navigation throughout your files using the buttons given on the mic.
PowerMic III has the unidirectional microphone with noise cancellation to avoid the background noise behind you. Connect it with the external headphones and have hands-on experience with it.
The microphone is very lightweight and easy to carry and hold. The design of this microphone is pretty decent. You will be able to connect it with the USB so that you will not have issues of running out of charge.
PoerMic 3 has the Dragon optimized sensors, which helps give you clear sound quality. It is also certified by well knows doctors, lawyers and authors.
Nuance PowerMic 3 does have mousepad option which helps your hover the mouse on your pc thorough that mic. It makes most of your stuff productive.
The frequency response of the PowerMic III is 20Hz to 16KHz. It does have to signal to noise ration more than 70 dB.
Philips SMP4000
Philips is one of the popular brands in the electronics industry. They do have so many other products than microphones. Most of the electronic house essentials might be from the Philips brand. They have a wide variety of products and SMP4000 Microphone is one that which is best.
Philips SMP4000 SpeechMic Premium AIR is the studio-quality microphone which has very raw features. If you are looking for the premium quality microphone, then SMP4000 is the one you should give a try.
It does have the inbuilt noise cancellation features which give you the very raw and bright output. It is the wireless microphone which provides you with the looseness connectivity technology.
Philips SMP4000 have the buttons to operate through it. You can also customise those buttons based on your modifications.
The design of this microphone is premium. The material used is reliable, and it makes it easy to hold and have a grip over it. It will make your microphone rigid, and the surface uses the anti-bacterial material as well.
Like PowerMic 3 you get the mousepad to hover over your computer and navigate through the files.
The frequency response of the Philips SMP4000 is 200Hz to 12KHz. It is a bit low on the side, yet this microphone is known for the 100% lossless technology. So, it will not disappoint you with the performance at all. The sensors and the technology are optimised in this microphone.
Philips SMP4000 has the signal to noise ratio of more than 70dB. This microphone stands out for its flexibility features.
You got the battery to charge for this microphone which comes with a charging station with it. The battery usually lasts very long (almost a day), which is the standpoint as well. Philips SMP4000 has the integrated motion sensor which mutes the microphone when not in use. That helps retain the battery for a longer time.
Sennheiser SC 75
Have you read our other content? If yes, you must have noticed the brands like Sennheiser in almost every piece. They do have a very brand reputation in the microphone industry. They are focused on making the niche-based microphone for various type of users.
Sennheiser SC 75 is the USB microphone with the double-sided headphones and dual connectivity. SC 75 is the microphone made with Skype in mind for the video calls and meetings. Most of the authors use this microphone for dictation due to the quality of this microphones.
SC 75 has the double headphones which the 3.5 mm audio jack and USB connectivity as well. This mic is certified by the Skype Business itself.
Dual connectivity feature of this microphone helps you solve some of your tasks in a busy routine. It helps you with the mobility of the mic. That's flexible.
You can work on your mobile, tablet or even on the PC as well.
You will love the dictation performance of this microphone. I used to use this microphone when I was writing scripts for my friend's YouTube channel. I was impressed by the performance of this microphone.
SC 75 has perfect noise cancellation technology which helps you reduce all the ambient noise. Dual headphone enables you to optimise the noise cancellation of the microphone. It is all alone the best feature of this microphone quality.
The design of the SC 75 is very comfortable and contemporary. You don't need to handle it like any other mics. Just plugin and go. Focus much more on the conversation instead of a microphone around you.
There you have got the in-call control options on your microphone. You can easily control the calls and volume using those. You can use either USB or Audio Jack to connect and use this mic.
If you are looking for some budget friendly option or easily portable option then you should go for Sennheiser SC 75.
Blue 1967 Yeti Pro
If you have started looking for the microphone for you, there are no chances that you have not heard about the Blue Yeti Microphones. Blue is the new company in the market which has targeted with very new generation has brought some fantastic microphone in very affordable pricing.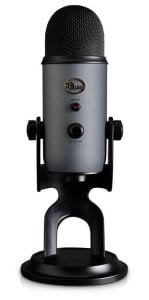 Blue Yeti Pro is the all rounder microphone that many people go for without thinking a lot about. If you have to choose the microphone which will help you do dictation work as well your other recording as well then you have the options now.
There are people who love to do other stuff as well, or they might need to do. You can use the dictation mics for other work as well. But that doesn't go very well. Having the all rounder microphone makes you more comfortable doing it.
If you are someone who is into many things or want to be in then you can consider Blue Yeti or the next upcoming microphone as a suggestion.
That is why, at the very start I have told you to not go for any other extra microphone for dictation stuff. The normal or authentic microphone works really fine.
Blue Yeti pro is the microphone made for almost all the people. It is well suited microphone for those who are doing everything on their own.
The design of this mic is really dashing and eye catchy. Blue Yeti Pro has the four different polar patterns. That helps your capture the sound in different ways.
The noise cancellation of this microphone is impressive and won't affect you at all in your dictation work.
Blue Yeti Pro has the frequency response of 15Hz to 22KHz. It has signal to noise ratio of 114dB.
Multipolar pattern of this mic will help your capture the sound in the way you want. It also makes it versatile as well.
If you are looking for the microphone which needs to be bit versatile over the only detection mic, then try your hands on Blue Yeti Pro.
Audio-Technica PRO 8HEcW
Audio Technica is the industry brand that is popular for making the rich and premium microphones. They have been dominating the condenser microphone. They do have the varieties of the microphones based on almost all the factors that you want for.
Audio-Technica PRO 8HEcW is the hyper-cardioid dynamic head-worn microphone. The reason to put this mic in this list is because of the trusted brand. I have used most of the Audio Technica Microphones, and the experience is quite lovely.
This microphone is made for those who want to do something like playing the guitar, keyboard, piano, etc. while recording. That is while keeping hands busy. Most of the people love to use this while writing and dictating as well.
Most of the call centers use this microphone when there is more stuff like data entry and all.
The dictation quality of this microphone is pretty nice. The design of the microphone is very simple and normal. Yet, this mic is very much comfortable.
The hyper-cardioid polar pattern of this microphone helps you isolate the source of the sound.
The frequency response of PRO 8HEcW is 200Hz to 18KHz. Being the dynamic microphone, this is very good. It helps you capture the high pitch sound as well. You can use this for recording vocal with instrumentals as well in your studio.
If you are looking for the best budget friendly option for your choices then AT PRO 8HEcW is the best microphone price viz. Do have a look at it.
That's it for this particular list. I have gathered the best ones you can pick for the dictations.
I have given you the choices based on the different factors. I would love to let decide on which factors you have to go for.
There is the option for budget microphone, premium microphone, normal or even the functionality viz as well.
Microphone are always the long term investments that is why I tell everyone to get the best one for them based on the factors they want. Without compromising. There are always some options available for you.
FAQ
What is the best microphone for speech recognition?
I have given you the list of best 5 microphones for speech recognition. Nuance PowerMic III is one of the best mic for speech recognition.
Conclusion
Hope you are satisfied with the list and have thinking about which product you are going with.
There are options for you now. I have made it pretty easy for you. Yet if you feel that there are still a few things that you need to be clear about. Do let me know in the comments section below. It will be helpful for others, as well.
If you want my recommendations, then I will suggest you go with the Nuance PowerMic III as your first choices. Blue Yeti Pro as the second choices. Blue yeti, because I would like to give myself some options to come up with.
If you have to look for something similar, then you can check out Top 5 Best Studio Microphones In 2021 where I have given the detailed study of the studio microphone, and you might love it as well.