If you are wondering how to play music through a mic without any technical complications, then it is possible if you really want to do it. You can play music through your mic, whether it's an earphone or a headphone or a professional mic attached to your system.
This is versatile thinking, and in case if you want to know how can you play music or any audio through your microphone, then this guide is all you need. We have got some easy ways for you to get this done.
How to Play Music Through Mic in Windows 10
In case you are using Windows 10 on your system, and you want to know how you can play the music through your mic, then it's a simple and easy process.
You might have experienced some online streaming channels, and you would be thinking about the gamers who use their mics to play music with their streams. This process requires the use of good quality audio mixer tools that are quite expensive, but they do their job quite well. But in case you are looking for a cheaper and quicker way, then here's how.
How to Play Music Through Mic:
You can start by making some changes to the Sound of your Windows on your computer.
Open the search bar of your Windows and then look for "Manage audio devices" to locate the audio settings.
Then look for the "Recording" tab.
Search for the option and disable the default microphone device by just right-clicking the "Microphone" option and choose "Disable."
Then you have to press right-click on the "Stereo Mix" and select "Disable" to disenable the device.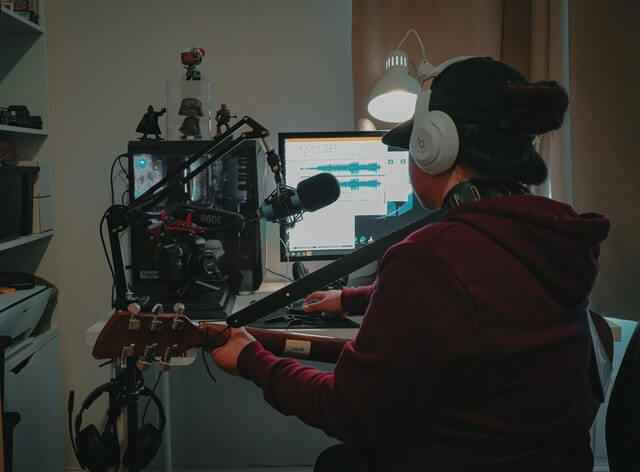 Playing Audio Through Microphone Using Software
Now you can make use of different audio mixer software tools that can help you play music through the mic. We take a detailed look at each of the best tools to help you with this matter.
VoiceMeeter + Soundboard
VoiceMeeter is a great choice as it is quite user-friendly and has multiple features to let the user edit or record any audio input. It lets you set a PC Soundboard that helps you to play music with shortcut keys or commands without a problem.
To download and make VoiceMeeter working along with Soundboard on your system, you can follow these steps.
Go to the website and download VoiceMeeter software and Soundboard on your system.
Then navigate the mouse to task manager and select the startup tab to enable both of these options so that they are on whenever your computer boots up.
Now adjust settings by enabling VoiceMeeter output and input. Choose to set the input of VoiceMeeter software as an output of Soundboard.
Set the speakers and mic as your hardware input and output.
Make sure that the app with which you want to use VoiceMeeter is actually using it.
MorphVox
MorphVox is another software for the system that allows any user to play music through their mic. This lets users add any effects or sounds in the background very easily through a mic. It is a paid software, but you can still make good input with the free version as well.
The unique and new thing about this software program is that it has text to speech output as well as it also includes a Voice changer that can help you input different voice tunes through your mic. You can play music through your mic, or you can speak into your mic with different sound effects.
You can turn on text to speech that would convert your text into a speech that can be run and included to play as through your mic. It is compatible with the Windows platform as well as Mac OS.
Soundpad
Soundpad is a tool that can be used to play music through your mic because it is a very easy-to-use app, and it is highly recommended by most users.
With Soundpad, settings are very easy to make this happen.
You have to choose certain sounds or any audio files for which you have to set some hotkeys that will play those sounds when you press them
It also lets you set up a hotkey that can block the mic of any other person who is on Discord or in a game talking to you.
You can make a playlist for your quick voice access and then set some hotkeys that can help you play music through the mic whenever you press certain hotkeys.
The app lets you select any sound effects and sounds in it from its library if you hold the Ctrl and Enter buttons together.
Rust Soundboard
You can add fun and bit weird sound effects that can play through your mic when you are on Discord or any other app or game that uses your microphone. With Rust Soundboard, you get all the funky and cringy voices and effects that can make some humor.
You can choose from irritating sounds like metal screws or screech sounds that can easily offend or disturb your partner or the person who is talking to you on the mic. Some other sounds effects may include funny voices that you can set from hotkeys to use while you are using an app.
It is a very simple and easy-to-use audio playing app that doesn't require much storage space on your disk, so you can always rely on this app to play music through your mic.
As the name would give the idea, this is one of the finest audio mixer software out in the market that helps you play music through the mic. This software also has many built-in sounds that include robotic voices, alien sounds, or even baby sounds.
You can also change your voice with this software to play it through your mic while chatting with any other person online. It includes some basic key arrangements that you can adjust and set according to your choice, or you can manually click any voice effect to play when you are talking on the mic.
The good thing is, it supports all platforms like Windows, Linux, Ubuntu, and also Mac OS. You can make the best out of this software when you are using it with Discord or Teamspeak or any such app or game that supports mic input.
Play Music Through Mic in Discord
When you want to play music or voice effect in Discord, you can follow these easy steps mentioned below.
Open the Discord on your system.
Now go to the settings option that is located at the bottom, having a gear icon at the bottom left.
Enter the settings and go to the side menu to select "Voice & Video."
Then select the input device and set it to the Stereo Mix option.
Select input mode from the user and checkmark the option that says "Voice Activity".
This option will help you to be heard by other users whenever any sound is played on your mic.
Then you can turn off the "Automatically determine input sensitivity" option so that you can set the sensitivity to -10 decibels.
Now check to see that you can easily play any music through your mic.
In case that your mic is of acceptable quality and you have some pleasant tunes on your gadget, at that point, you can turn a disk jockey, engaging different individuals from the local area. Used it in web-based gaming on global chatting platforms like Discord and Teamspeak to have fun.
You can check out: Best Mic For Discord
How to play music through mic in game?
This is an easy thing to do. You just need to go into your Windows Control Panel > Hardware and Sound > Sound and select the Recording tab. Change the microphone input from "No device" or your default microphone to "Microphone/Auxiliary Audio Device."
Now when you sing, it will be recorded with whatever audio source is currently selected for use, in this case, your game sound.
Testing Sounds Played from Mic
The sound that is played in the mic can be tested with Discord or Audacity software. You can simply use easy steps by just playing music through the mic and enabling the recording option on the app that you are using.
Try recording the audio in Discord or Audacity software that will let you replay the sound so that you can understand the sound quality better. You can also ask your friends to tell you by playing music or sound in the mic and in return they can explain how it sounds or if there is any problem.
How To Play Music Through Mic? : FAQ's
Can I use my speaker as a microphone?
Yes, the speaker can be used as a mic if you are an expert at tweaking and you know which speaker are you modifying using amplifiers.
How to play music and talk at the same time on the mic?
It's a simple process as you just have to turn on your mic and then start talking as well as play music on your system. It will automatically input both the sounds that are audible by the other person on the call.
Conclusion
This was a discussion on how to play music through the mic, and we explained easy ways without spending money to make this happen. You can make use of certain software that is available as an audio mixer to help you play music through the mic.
I hope this tips would have helped you. Do you have anything to share? Do let me know. Till then, you can read our other articles as well:
What is a dynamic microphone? Working, Advantages & Disadvantages
Rode NT1-A vs Audio Technica AT2035 Microphone: Which is the best microphone?
How To Use Headset Mic On PC With One Jack
How To Stop Microphone From Picking Up Keyboard Noise
What Does A Pop Filter Do?
Easy Hacks To Improve Microphone Sound Quality